Reservation Policies
Weekly rentals only from June 25-Aug 27
Check-in time is 4:00pm
Check-out time is 11:00am
We request a 2-night minimum during fall, winter, and spring seasons
To confirm a reservation we require a 50% deposit
All rates are subject to Idaho Tax
Covered and uncovered boat slips available to guests: covered $45 a night, uncovered $40 a night
All cabins feature full baths and fully equipped kitchens.
All bed linens and kitchen utensils are provided
Soaps and towels are not provided during the summer season
BBQ's are provided at each cabin during the summer
Fireplace cabins are supplied with one load of wood daily. Additional wood available for a fee
Cabins do not accommodate extra persons
Pet Policy: As a result of the additional cost of maintenance and cleaning related to pets, there is an additional charge of $30.00 per night. Dogs must be on a leash at all times, please pick-up after your pet.
Cancellation Policy: Summer and holidays require a written 

120-day 

cancellation or notice of modification to the reservation. Fall, spring and winter require a one week cancellation or notice of modification to the reservation. If the cancellation notice does not fall within the stated time limit, the deposit will be forfeited. A $75.00 service charge will be subtracted from all refunds. Guests are responsible for payment of all the nights reserved.
Occupancy Policy: Rates are based on occupancy from Labor Day to the end of June. This is based on the total number of guests per reservation, not variable per night. For example, if you have 2 people staying for one night and 4 people staying the next night, you will pay for 4 people each night. If the number of guests exceed the number stated in reservation, the maximum cabin rate will be charged. This is deemed theft of services. Cabins do not accommodate extra persons. Any additional adults/children will be charged according to the published rate schedule. The registered party will be responsible for the extra charge. Elkins Resort management reserves the right to enter and inspect any room upon showing of good cause.
Guests will also need to provide beach towels, and beach or lawn chairs. Barbeques are available for cabins during the summer months. Briquettes and lighter fluid are not included with the barbeques. We do ask that pets are not to be left unattended in the cabins. Sociable pets are allowed with an additional charge.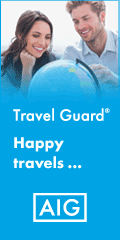 Elkins Resort has partnered with Travel Guard to provide our guests with Trip Insurance. Travel Guard provides cancellation and  trip interruption insurance that covers all of the unexpected circumstances that can come up before or during your trip to Elkins Resort.
If you need further information about what trip insurance with Travel Guard will protect against, please visit www.travelguard.com/ASTP.